Keurig K15 Brewer - Perfect for College Dorm Rooms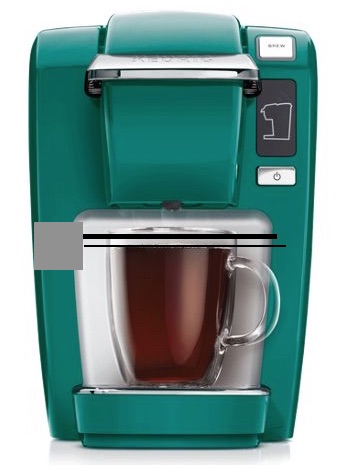 Keurig has come out with a new compact brewer. It's perfect for dorm rooms, so if you are sending your child off to college, this would be a good item to take. The K15 comes in a variety of colors including the new Jade, True Blue, and Chili Red.
Measuring 10.8″H x 6.9″W x 10.7″D, the K15, the footprint of this new brewer is their smallest. But that doesn't mean it has to brew a small cup of coffee or tea. This machine has the capability to brew 6, 8, and 10 ounce cups, unlike their compact brewer of the past, which limited users to just the smallest capacity.
In about 2 minutes you have a freshly brewed cup of your favorite Joe! But coffee is not the only thing this brewer makes. There are varieties of teas, hot chocolates, and even Campbell's has soups that can be made in the Keurig. With caffeinated, decaffeinated, half-caff, organic, etc., there are all kinds of hot beverages you can make with this unit. And if you want an iced tea or iced coffee, simply brew it over ice. That's easy. It takes about 2 minutes for the K15 to brew your beverage (or soup).
For a look at all the varieties of coffees, teas, cocoas, and soups, check out the Keurig.com website. They offer seasonal flavors throughout the year, and if you join their club you will get periodic discounts on your orders.
The Keurig K15 is their latest compact machine. This little unit fits into dorm rooms, offices, small apartments, and RVs. It might be their smallest, but it is just as functional as their larger machines. The only difference is the amount of options it can do.
So, to make sure your college student has the latest and greatest way to make a good cup of java, tea, or a hot cup of soup, send the K15 to school with them. And for care packages, you can always order some K-cup pods to be sent to the dorm. That way you know they won't be making a midnight run to the latest coffee place for a pick-me-up during long nights of studying!
About the Reviewer
Francine Brokaw writes about products, travel, and entertainment. She has been published in national and international newspapers and magazines as well as Internet websites. She has written her own book, Beyond the Red Carpet The World of Entertainment Journalists, from Sourced Media Books.
Follow her on Twitter