Animators' Collection Boo Doll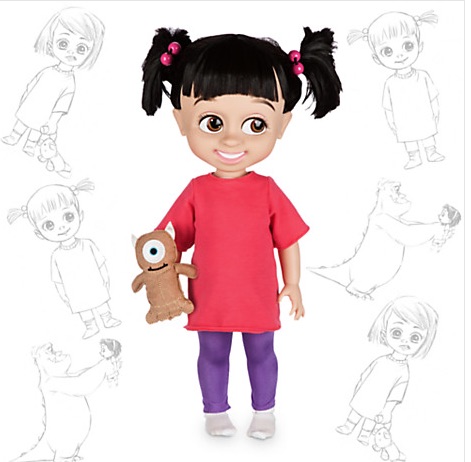 Boo is now part of the popular Disney Animators' Collection of dolls depicting Disney characters as children. Of course, Boo is already a child so she has been crafted to look like herself.

If you look at the picture of this doll on the Disney Store website, you might think she is not one of their best products in this line. I thought so myself. But the pictures do not do her justice. This is one doll that needs to be seen in person to be appreciated. Unlike most of the others in this beloved line of dolls, Boo has a wide smile with her teeth showing. Her face does not photograph very well. But once she is taken out of the box, you'll see the love and personality coming from this adorable little girl. She stole the hearts of Sully and Mike in Monsters Inc., and she will steal your heart too.
Boo is dressed in her pink shirt with purple leggings and her white socks. Her dark hair is tied in pigtails wrapped with her trademark hair ties with plastic pink balls. She carries "Little Mike" the stuffed toy she loved in the film. You know the one – Mike wouldn't let her have it until she screamed. Now she is the caretaker of this stuffed Little Mike and her smile shows she is as happy as can be.
Her profile will put a smile on anyone's face. She exudes happiness. It's hard not to smile when you see this doll out of the box. And speaking of the box, like the others in this series, it is covered with the animators' sketches of Boo in various positions.


Just looking at her you can almost hear her calling "Kitty," as she did often in the film. And she looks like she's about to start her loud and boisterous chuckling.
Unfortunately, as mentioned earlier, the pictures of Boo on the website do not do her justice. She has plenty of personality and charm once she is released from the box and all the shackles. She needs to get out of those restraints and be free to be enjoyed. And yes, she is one that will be enjoyed by all ages, and especially little girls. She's a great companion for carrying to the park, in the car, and cuddling with in bed.
About the Reviewer
Francine Brokaw writes about products, travel, and entertainment. She has been published in national and international newspapers and magazines as well as Internet websites. She has written her own book, Beyond the Red Carpet The World of Entertainment Journalists, from Sourced Media Books.
Follow her on Twitter