Geomag – Fun for ages 3+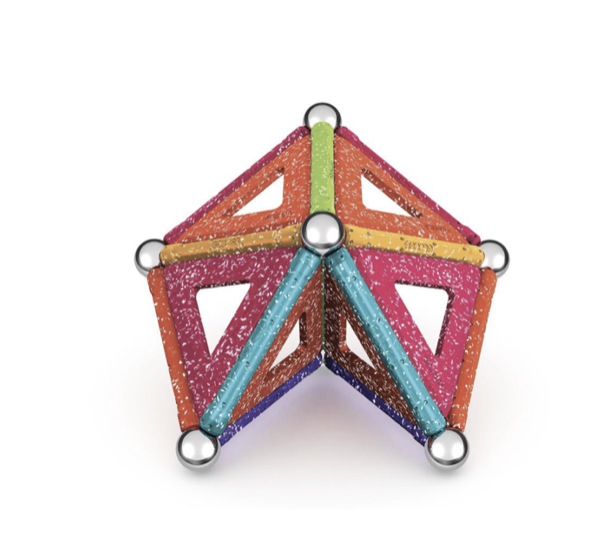 It's summer and that means we should be spending more time outside. But there are the inevitable sick days and rainy days. Instead of parking your kids in front of the computer or the TV, let their imaginations go wild with the fun Geomag construction sets. These magnetic pieces can be put together and taken apart easily and re constructed with different outcomes each time.
Their newest collection contains glitter pieces. And kids love glitter. They will be attracted (no pun intended) to these magnetic rods and balls while their imaginations concoct amazing and colorful designs. I myself had fun trying this out. Just don't do what I did and place the pieces on a metal filing cabinet! These magnets are really strong.
The company has been creating these fun activities for kids since 1998. They are Swiss made and created from recycled plastic.
As kids get more accustomed to working with the various pieces, their imaginations will go into overdrive to see what they can come up with next.
I highly recommend getting a few sets to have more pieces from which to create new designs. Besides the magnetic rods and balls, the set includes plastic panels to reinforce the creations and make them sturdier. Simply click these panels into place and voila.
There are several sets that all go together. Unfortunately, due to the small size of the pieces and choking hazzard, they are not for kids under 3.
With bright colors, shiny silver balls, glitter pieces, glow-in-the-dark sets, and more, the variety of art your kids can construct is limitless. This is also a fun activity for parents to do along with their children.
The various packages range in price and size of pieces. Check out the webpage for all the information.
About the Reviewer
Francine Brokaw writes about products, books, travel, and entertainment. She has been published in national and international newspapers and magazines as well as Internet websites. She has written her own book, Beyond the Red Carpet The World of Entertainment Journalists, from Sourced Media Books, is the entertainment correspondent for Good Day Orange County, and has her own TV show, Beyond the Red Carpet, on Village Television in Orange County. Follow her on Twitter.