Flynn Animator Doll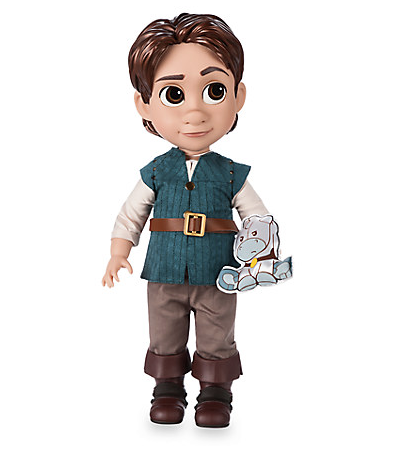 The newest animator doll from The Disney Store is Flynn Rider, aka Eugene Fitzherbert. This adorable little fellow is the young version of the man who stole Rapunzel's heart in Tangled and is her best friend for always in the Tangled TV series. The 2010 film introduced Flynn to the world. He was a dashing and flirtatious man with great ambitions.
The Flynn Animator doll has so much character in his sweet expression. His big brown eyes and charming smile combine to make him one of the cutest little boy dolls in a long time. And his eyebrows show his rakish side with one raised in an expression of confidence while at the same time looking innocent and adorable.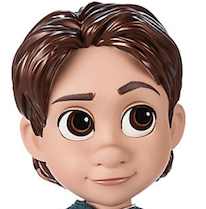 Flynn holds a soft version of his beloved horse Maximus. Sporting brown boots, light brown pants, a tan shirt with a green vest and brown belt, little Flynn is completely loveable. And with his sculpted mop of brown hair, he is rugged too.
Flynn joins Kristoff and Aladdin in the Animator Collection line of dolls as the male option for kids and collectors. He is a great companion for little boys and a loveable little fellow for little girls. And collectors will want to have him to stand next to their Animators' Collection Rapunzel doll.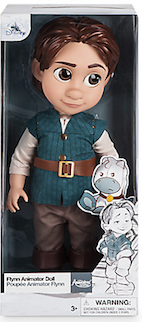 The Flynn Animator Doll was created by Disney animator Byron Howard, who worked on several Disney animated films including Bolt, Zootopia, and yes, Tangled. As with all the other Animator dolls, there are several sketches on the box showing little Flynn in a variety of poses demonstrating the many sides of Flynn Rider, or Eugene Fitzherbert.
It's impossible to look at this little guy and not smile. He will warm your heart. He's sweet, charming, and he's ready for his next adventure.
Flynn is made of plastic. With his molded hair he won't ever have a bad hair day. And the detail on his face with his shiny eyes, endearing smile, and devil-may-care eyebrows will steal the hearts of boys and girls of all ages. Flynn is for ages 3+.
Flynn's arms, legs, and head move so he can be posed in a variety of ways. If you want to put him on a stand, the Kaiser doll stand #2601 (available from Amazon) fits his 16 inch-high body.
The Flynn Animator Doll lists for $26.95 from The Disney Store.
About the Reviewer
Francine Brokaw writes about products, travel, and entertainment. She has been published in national and international newspapers and magazines as well as Internet websites. She has written her own book, Beyond the Red Carpet The World of Entertainment Journalists, from Sourced Media Books.
Follow her on Twitter