Coffee maker and Donut shop – for kids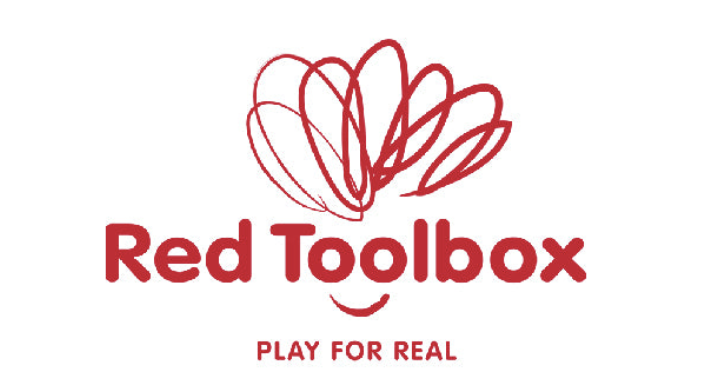 Red Toolbox's Tasty Jr. line of interactive toys has some fun new products that will have kids creating donuts and serving up coffee just like grown ups. Let's face it, many of us drive through the coffee houses all the time for our caffeine fix, or we create our own at home with one of the coffee makers on the market. And who drives past a Duncan Donut shop (or Krispy Kreme) and mentions how good a donut would be right now? Well, little kids catch on quickly to our everyday habits and now they have their own products to be just like mom or dad.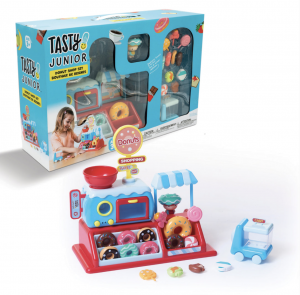 The Red Toolbox Tasty Jr. Donut Shop Set consists of a donut maker, several donuts, and a little cart to transport donuts. What makes this so much fun for kids is the fact the unit talks, has fun sounds, push buttons, and colorful decorations for their pretend donuts. Unfortunately these delicious looking treats are only for pretend, but if they were real they would definitely be delectable. Gather their stuffed animals and dolls around for a fun little party. With eight donuts included in the set, there is enough for a fun tea party or get together with pretend friends.For ages 3+, this cute and colorful set lists for $39.99. This unit requires 3 AA batteries which are not included.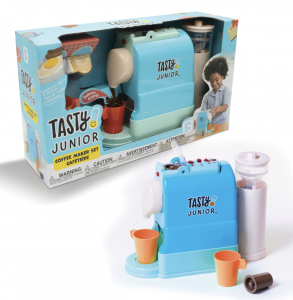 And next time mom or dad pops a pod into a coffee maker or brews a delicious cup of java, kids can join in as well. With the Red Toolbox Tasty Jr. Coffee Maker Set kids can play barista in their own home. This pretend espresso machine might not brew up a real cup of joe, but for kids it is just as nice. There are lights and sounds and buttons to push for the perfect cup of coffee. And it really does spew out liquid. Fill the dispenser with water, place the pod into the machine, turn it on and voila – a nice cup of espresso. Unfortunately this isn't real. The only thing this machine is missing is the scent of freshly made coffee.
For ages 3+ the coffee maker set lists for $27.99. It comes with 2 batteries.
About the Reviewer
Francine Brokaw writes about products, books, travel, and entertainment. She has been published in national and international newspapers and magazines as well as Internet websites. She has written her own book, Beyond the Red Carpet The World of Entertainment Journalists, is the entertainment correspondent for Good Day Orange County, and has her own TV show, Beyond the Red Carpet, on Village Television in Orange County. Follow her on Twitter.