Buddha Board – Product Review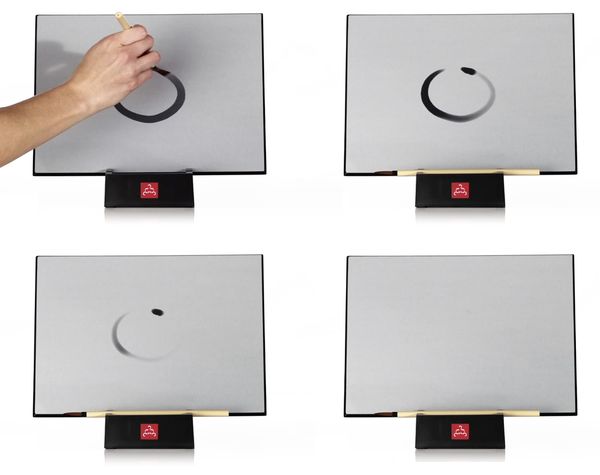 Let's face it. We are living in stressful times. This is an unprecedented age with the pandemic, the political upheaval, and so much discourse. Everyone needs to unwind and take a deep breath. Some people find solitude in music, others in books. The Buddha Boards are the perfect remedy for the stress we all live with. It isn't an electronic gadget or anything that has a cord. It lets users unplug from the world while unwinding from their stress.


So, what is a Buddha Board? Simply put, it is a lightweight board that doesn't require a rocket scientist to set up. Simply adjust the board and you're almost ready to start letting go of your cares and worries. Included in each of the sets is a brush so all the user needs to supply is good old H2O. There are little wells in the set however my suggestion is to get a small glass, jar, or cup and put water in that. That way if you should tip your board, the water won't spill out.

Do you remember the old days…way back when, when there was a doodle pad that after you drew your picture you could wipe the slate clean by ripping up the top? Since that time there have been other creative ways to express oneself. But the Buddha Board is by far the most enjoyable. Why? Because it brings out the inner artist in everyone. You do not have to be creative or artistic. All you need to do is to start drawing and see how interesting your creations can be. It is truly relaxing.
When the water dries the board is a clean slate again. For darker strokes use more water and for lighter lines use less water. The more water you use the longer it takes to disappear. By adjusting the thickness of your strokes as well as the darkness, you will soon be creating things you never thought possible. And even if your drawing isn't up to a museum's standard, you will feel more relaxed and refreshed simply by drawing. Water drawing on the Buddha Board instills users with a Zen feeling. Trust me on this. Even though I do plenty of painting and drawing, when I use the Buddha Board I feel a different sense of calmness.
There are several different Buddha Boards.
The Original Buddha Board is the largest, measuring 12×9.5 and ¼"deep. It lists for#34.95.
The Enso version measures 10×10 and is 1 inch deep. It lists for $24.95.
And the Mini Buddha Board is perfect for tucking in a purse or backpack. It measures 5×5 and is ¼" deep. This one lists for $15.95.  They all come with their own brushes.
By using only water and no chemicals, parents can feel good about having their children create with the Buddha Board. And adults will enjoy the Zen feeling of water drawing.
About the Reviewer
Francine Brokaw writes about products, books, travel, and entertainment. She has been published in national and international newspapers and magazines as well as Internet websites. She has written her own book, Beyond the Red Carpet The World of Entertainment Journalists, from Sourced Media Books, is the entertainment correspondent for Good Day Orange County, and has her own TV show, Beyond the Red Carpet, on Village Television in Orange County. Follow her on Twitter.