Wummelbox Rainy Day Craft Kit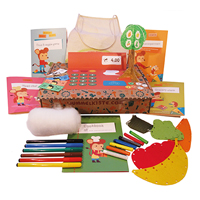 Wummelbox, a wildy successful subscription arts & crafts service straight from the heart of Berlin, has launched in the US just in time for spring! Each Wummelbox activity kit contains 3-4 projects in relation to a specific theme such as, "Nutrition," "Music," or "Color and Light" designed to inspire children ages 3-8 to learn and explore the world around them. Crafts include windcatchers, kaleidoscopes, animal masks, games and more for hours of learning and play!
To get started with Wummelbox, simply choose a subscription package for home delivery or send a Wummelbox as a gift. Ordering is easy with a few short steps atwww.wummelbox.com . Options include:

· Try A Wummel ($39.95 per month)
Play and explore with one Wummelbox; no cancellation notice required. Free shipping!

· Little Wummel ($29.95 per month)
Three-month subscription; save $120! Free shipping.

· Big Wummel ($23.95 per month)
Twelve-month subscription for big time Wummelbox fans! Save $192; free shipping.

Wummelbox offers a wide range of projects to allow children to explore and expand their artistic horizons each and every month. For more information about Wummelbox, please visit www.wummelbox.com/ or check out our Facebook page www.facebook.com/wummelboxcom.