VTech Cody The Smart Cub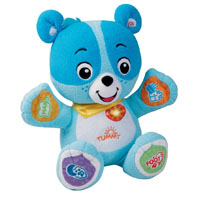 Children will love these cuddly, plush friends! With Cody The Smart Cub & Cora The Smart Cub (sold separately), children are introduced to valuable every-day life skills such as their daily routine, first words and emotions. Cody and Cora know exactly what time it is and children will grow and learn with their smart cub every day through daily morning greetings, bedtime music and holiday and birthday wishes. Share in the developmental journey online through VTech's Learning Lodge™ and personalize the smart cub with a child's name, favorite stories, and more. Right out of the box, Cody and Cora include 40 phrases, four sing-along songs, two stories and 30 melodies. In addition to the out of the box play, parents can easily download 130 melodies, 20 stories and many more activities via VTech's Learning Lodge™.
Available at Amazon.com, Target.com, Toysrus.com, Walmart.com and in-store as well.