Voyagers Plush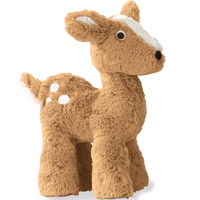 Deer: Basil the Deer has a playful look with a white-tail, spots and suede-like hooves.
Moose:  Aspen the Moose has a playful look with suede-like antlers and hooves.
Polar Bear: Piper Polar Bear has a playful look paired with luxurious soft white fur and suede-like paws.
Grinch:  The Grinch is at it again! This super-soft character is dressed and ready to steal Christmas.  The Grinch features a soft red and white Santa Claus Jacket and hat.