uKloo Riddle Edition is a Treasure Hunt Game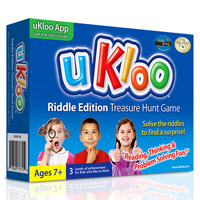 Reading, thinking and problem solving fun!
Get your kids thinking with uKloo Riddle Edition Treasure Hunt! This multi award winning game will boost your child's reading comprehension, build problem solving skills, enhance logic and reasoning, develop decision making, encourage writing, and promote independence. Take your child on this engaging seek-and-find literacy game that combines your child's thinking skills with physically active fun! There's even a Riddle Writing Guide that encourages parents and children to challenge each other with their own riddles!