uKloo Early Reader Treasure Hunt
Shh! Don't tell the kid's it's educational!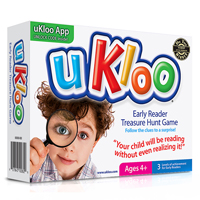 Create a treasure hunt for your kids as a great introduction to reading! The excitement of finding hidden clue cards and running around the house on a treasure hunt is so engaging that the kids are reading without even realizing it! When the kids get stuck on a word, they are empowered to look up the word themselves and with the aid of a Picture Helper Poster. Multi award winner!