Twiddle Fidget and Sensory Toy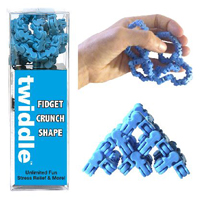 Twiddle is a fun fidget and sensory toy has become quite a useful tool for kids with special needs. It has been recommended by many schools.
Quoting an Occupational Therapists they say Twiddle is good for:
Anger management – the break apart ability is a fantastic feature
Helping for focus to enhance learning during stressful situations
Distress tolerance skill for Dialectal behavior therapy (self-harm), changing patterns of behaviour
Promotes self-regulation
Zorbitz, Inc. is a family owned mother-daughter company who has been in business for 11 years.