The Mensch on a Bench – Product Review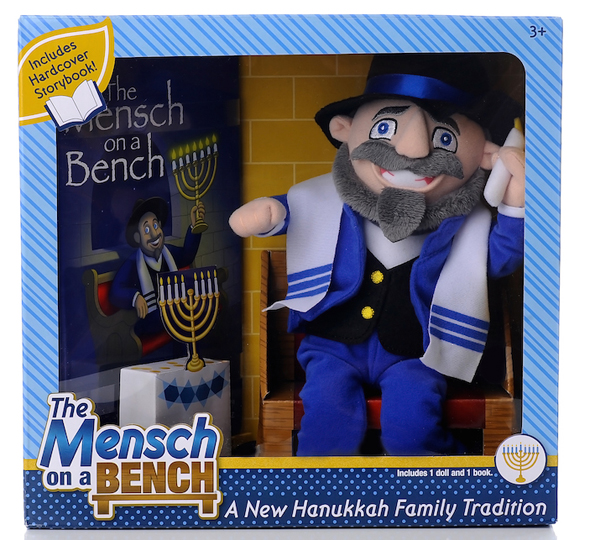 We all know about the Elf on the Shelf, don't we? This new holiday tradition began in 2005 with a little storybook, then a little elf for each home, and recently a DVD. That is a fun tradition for Christian families, however now Jewish households can start a new holiday tradition as well with The Mensch on a Bench.
The illustrated book tells the (fictional) story of Moshe, who watched over the menorah for eight days for Judah and the Maccabees when they returned to the temple to celebrate their victory. The oil was only supposed to burn for a day however it lasted eight days and nights. Those nights Moshe volunteered to watch the menorah to make sure it stayed lit.
Moshe also made up a fun game with a "Dreidel" for the children, and generally made the days fun and kept the nights bright. He made them Latkes and kept everyone happy. What a mensch!
IF you're Jewish you know what I'm talking about, but for the rest of you, let me explain. A Mensch is a person with a good heart who is happy to help others. He has integrity. A Dreidel is a little spinning top that was originally created from clay. And Latkes are potato pancakes. The Menorah, Dreidel, and Latkes are all part of the Jewish holiday of Chanukah.
The storybook comes with a 12 inch Mensch (on a removable bench) to watch over the Menorah and the household. He is a smiling little fellow, filled with love and joy and a big heart.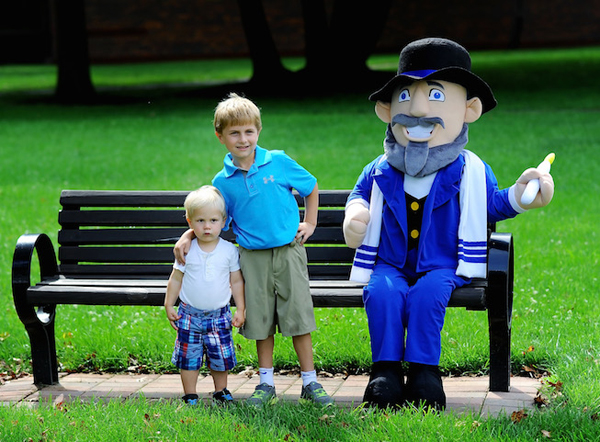 Neal Hoffman, the creator of The Mensch on a Bench, told me, "Two years ago my 6-year-old son, Jacob Maccabee Hoffman, asked for an Elf on a Shelf. I told him, 'We are Jewish. We don't do Elves on Shelves, we do Mensches on Benches.' Once I said it a light bulb went off!"
So Neal used his background with Hasbro toys and developed a prototype of the Mensch and wrote the little storybook. A Kickstarter campaign was launched and last year their 1000 units sold out in 10 days.
Neal explained his entire concept to me. "The Mensch watches over a family's Menorah and teaches the kids to have good values.  One night of Chanukah, the Mensch has kids give presents to those in need, rather than receive a Mensch.  He is a 12" doll and comes with a hardcover book. For those who can't get enough of Moshe, they can order a 5 foot Mensch on a Bench from our website."
This is a wonderful product for Jewish households who are often overlooked when it comes to holiday items. Now, The Mensch on a Bench can be part of a nice Jewish home and a holiday tradition. And, if you think Moshe is only for Chanukah, think again. Next Passover there is a new story coming out about Moshe – AfikoMensch.
It's never to early or to late to start a new family tradition. If you are Jewish or have Jewish friends, this is the perfect gift. Life is better with a Mensch in the family.
And, for those who are keeping track, the large Mensch is made in the USA.
About the Author
Francine Brokaw has been covering all aspects of the entertainment business for 20 years. She also writes about technology and has been a travel writer for the past 12 years. She has been published in national and international newspapers and magazines as well as internet websites. She has written her own book, Beyond the Red Carpet The World of Entertainment Journalists, from Sourced Media Books.
Follow her on Twitter
Like her on Facebook