Sur.face Pro from BeautyBlender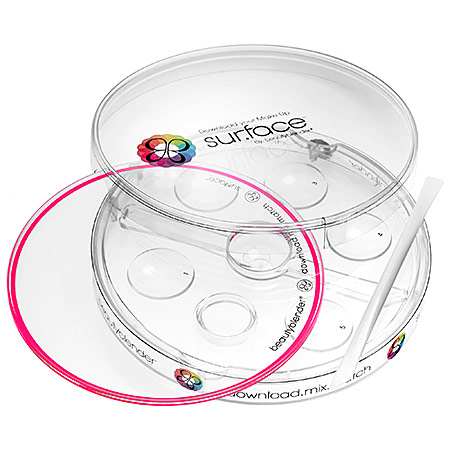 This ingenious little item lets anyone become a makeup mixologist. Surface Pro is small, portable, and easy to use. It's a handy item for anyone who uses makeup. There are six numbered wells, a spatula for blending, and a thumbhole to spin to let users access an individual well, as well as a palette on which you can customize your colors.
So, why is this a handy little unit? First of all, it allows users to blend foundations to create the perfect color for their skintone. Second, users can blend different eye cream shadows and lipstick shades for one-of-a-kind colors.
Those are the obvious uses for the Surface Pro. What else can you do? There are plenty of little tricks of the trade. For instance, have you thought of combining a lipstick color with a tiny bit of foundation to make a cream blush? Cream blushes look smoother than powder.
If you put Vaseline in the unit then add some powder shadow or blush you will have a custom lip tint. And speaking of lips, did you know that adding a drop of peppermint oil to lipgloss makes your lips look fuller? It's instant plumping without the injections.
There are many more little tricks for makeup lovers, busy moms and business professionals. Personally, I have never thought of these before but there are some great tricks of the trade out there, and with the surface pro it's now easy to take advantage of them.
The Surface Pro was designed to let users create their perfect foundation, however it does a lot more. This is a convenient way to also create customized lip, blush, and shadow colors. And don't be afraid to combine oils, water, and other liquids to discover new and fun ways of using your makeup. After all, makeup costs a bundle so why not get the most out of it? Granted, this is not a product everyone will want, however if you're busy or if you love to experiment and love makeup, this is for you. The Surface Pro lists for $40. Yes, that's a lot, but for those who are really into makeup, it's just a drop in the bucket.
About the Author
Francine Brokaw has been covering all aspects of the entertainment business for 20 years. She also writes about technology and has been a travel writer for the past 12 years. She has been published in national and international newspapers and magazines as well as internet websites. She has written her own book, Beyond the Red Carpet The World of Entertainment Journalists, from Sourced Media Books.
Follow her on Twitter
Like her on Facebook