Sun-Litz Rhinestone Bracelets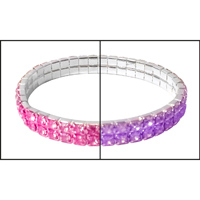 Rhinestone bracelets change color in the sunlight in six exciting colors!
Wear them separately or together to add sparkle to any look. Colors options are:

Clear AB changes to Lilac
Blue changes to Green.
Pink changes to Purple
Clear AB changes to Pink
Clear AB changes to Silver
Rose Changes to Lilac
7 inch bracelet stretches to fit most wrists. Available online from beautyboutique.com or lighterside.com and in stores at Toys R Us and Whole Foods Market. Contact Zorbitz(866-Zorbitz) for more details.