Spot Interactive Plush
Disney/Pixar's The Good Dinosaur is all about the relationship between Arlo, a young dinosaur, and a fun-loving cave boy named Spot. While Arlo is the headliner in the film, fans have gravitated to the little boy. Spot is adorable and with the new "Spot Interactive Plush," kids can talk to the little guy and he will talk – or grunt – back.
After pushing a small button on his hand, Spot grunts to let you know he is active. Then ask him "Did you hear that?" and he'll get excited and respond. When you howl "aaooo" he will howl back.
When you ask, "What's so funny?" the little fellow laughs a hearty laugh. Tell him, "Spot, I sure am tired" and he lets out a sleepy yawn.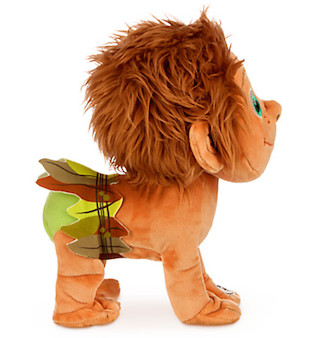 But this little fellow isn't all talk. He actually moves. Say, "Spot, help me get home" and he starts grunting and walking on all fours just like he does in the movie.
While kids will undoubtedly enjoy the antics of this little guy, parents might get a tiny bit annoyed with all the grunting and howling, but hey, he's so darn cute to look at that who can get upset with all the fun he has in store for your little ones. And let's face it, Spot is so much fun. It's hard not to smile and even chuckle when he laughs.
His green eyes and wide smile, not to mention all his freckles, are embroidered on the soft plush head, making him a cute little stuffed character to enjoy even without all the grunting and walking. When his hand is not pressed he is a simple little plush toy, and when his hand is pressed, he becomes interactive. To stop his responses, simply press the button again to turn him off. He also turns off automatically after a short time.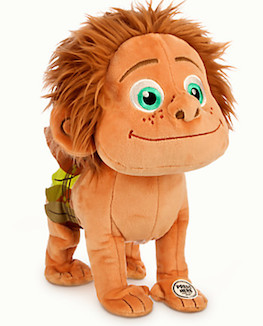 One of the aspects of this toy that will also appeal to youngsters is his soft yet wild hair, which is rooted so it's not too easy to pull out. He wears a felt loincloth and an adorable expression.
Spot Interactive Plush is not squishy like a normal plush toy would be. Since he is interactive he has a mechanical body (his head is all plush), however he is still easy to hug and hold, especially for little hands.
Spot Interactive Plush is a fun addition to any home, especially those who have taken the little boy to their heart. The Good Dinosaur is beloved by all ages.
Check out a clip from this fun movie.
About the Author
Francine Brokaw has been covering all aspects of the entertainment industry for 20 years. She also writes about products and travel. She has been published in national and international newspapers and magazines as well as Internet websites. She has written her own book, Beyond the Red Carpet The World of Entertainment Journalists, from Sourced Media Books.
Follow her on Twitter