SmartMax Factory With Car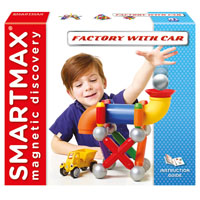 SmartMax vehicle and building sets collide with the newly releasedSmartMax Factory With Car (MSRP $49.99). A yellow truck with friendly eyes, wheels, and a bed for storage accompanies the set. Additionally, tubes, bars, and balls can connect for desired mazes.Children ages 3 and up with enjoy playing with SmartMax Factory With Car. SmartMax construction sets enable children to explore the fascinating world of magnetism in a safe and creative way through making strong building structures and vehicles.
Available at Amazon.com, Walmart.com, Target.com, and www.SmartGamesUSA.com.