Poo-Pourri Product Review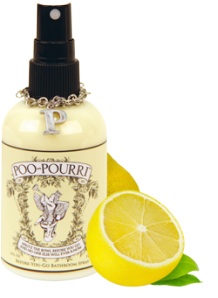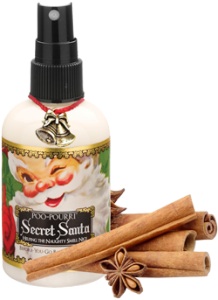 This is a great product for a somewhat indelicate problem. As the children's book says, "Everyone Poops." It's a necessity. But leaving a sign that you have pooped is not. With Poo-Pourri you can do your business and no one is the wiser.
All it takes is just a spritz of Poo-Pourri into the toilet bowl prior to using it. A protective layer of essential oils forms on the top of the water trapping any unsavory scents below so the only smell is that of the Poo-Pourri.
There are several scents available as well as different combination packages. The original scent is a blend of Bergamot, Lemongrass, and Grapefruit. It's not overpowering. It's basically just a fresh smell. And yes, it does trap the pungent odor below the water so it doesn't escape when flushed. There is also a scent called "Royal Flush" which combines Eucalyptus with Spearmint. "Deja Poo" is a combination of White Flowers and Citrus, and "Trap-A-Crap" is Spicy Orange. "No. 2" is a blend of Berries and Peaches. "Poo La La" combines Peony, Rose, and Citrus. Lavender Vanilla is just that, as is Citrus Mint. "Sh*ttin' Pretty" is a blend of Rose, Jasmine, and Citrus. "Call of the Wild" is the scent of Ruby Red Grapefruit. Plus, they are continuing to create new scents like "Hush Flush" which is a blend of Wildflowers.
For men there is "Bass Ackwards" which is a blend of Mountain Air and Natural Essential Oils. "Poo-Toniun" is a woodsy blend of Basil, Bay, and Fir. "Heavy Doody" combines Sandalwood, Neroli, and Sea Salt. "Dr. Pott's Proven Potty Potion" blends Tea Tree, Rosemary, and Lavender.
For kids they have developed "Toot Fairy" which is a blend of Fruity Floral and Citrus. "Super Dooper Pooper" combines Tangerine and Ylang Ylang. And for diaper pails there is the "Little Stinker Diaper Deodorizer."
The bottles last for many flushes, and there is a small bottle that resembles a mascara tube which is easily transported in a purse so when you leave a bathroom while visiting a friend, you won't leave any trace of your bathroom activity. When you've got to go, you've got to go. And when you're on a date or at a friend's house, well, who wants to leave a nasty smell behind?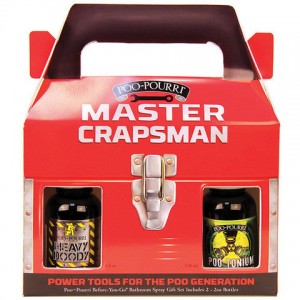 By now you might be chuckling or even laughing out loud. When I first heard about this I thought it was a joke. But then I tried it. It works. Everyone poops. That's no joke. It's a reality. And Poo-Pourri is handy when we do.
These ingenious people didn't stop with the toilet. There is a spray for pets to keep their coats and skin smelling fresh and clean. They have a "Shoe-Pourri" to deodorize smelly shoes, and yes, there is a "Potty Mouth" breath spray.
And, the final piece de resistance is that these products are Made in America!
About the Author
Francine Brokaw has been covering all aspects of the entertainment business for 20 years. She also writes about technology and has been a travel writer for the past 12 years. She has been published in national and international newspapers and magazines as well as internet websites. She has written her own book, Beyond the Red Carpet The World of Entertainment Journalists, from Sourced Media Books.
Follow her on Twitter
Like her on Facebook