Pictopia: Disney Edition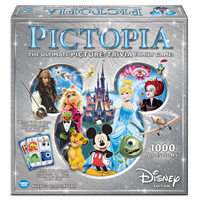 The ultimate picture-trivia family game!
Families team up in this uniquely collaborative yet competitive trivia game with 1,000 questions covering the World of Disney! During the game, everyone gets a chance to show off their knowledge – from Disney Jr. and Disney XD to the Disney Parks and classic films. Players place wagers based on knowledge of those images, and then work together or on their own, to answer the question.