Pee & Poo Plush Toy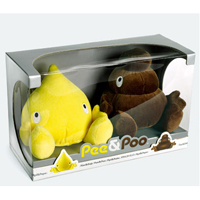 The cuddly toys Pee&Poo are made in a cotton plush and filled with polyester fiber. Naturally, they are CE-marked and are suitable for children of all ages. Pee&Poo are 6 and 5.5 inches respectively.
Pee&Poo marry equal parts of aesthetic and educational elements, and has thus become a success among children an adults alike. Pee&Poo works just as well as potty training inspiration, as a cuddly companion.
The Pee&Poo duo was designed by Emma Megitt in late 2004, in Stockholm, Sweden.