NutriSystem's Fast Five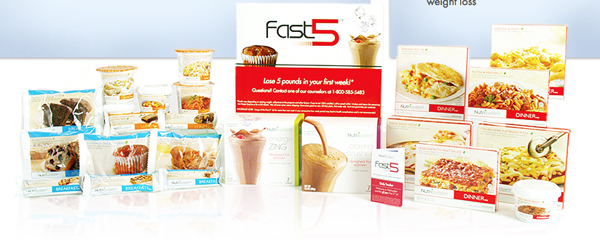 For years I've been seeing ads on TV and in magazines for weight loss programs. Marie Osmond has been touting the benefits of NutriSystem and her 50-pound weight loss. She has also told us through the years how good and tasty the food really is.
The skeptic in me decided to finally give it a try with the new Fast Five system. The Fast Five includes seven EnergiZING shakes, seven Craving Crusher shakes, seven breakfasts, lunches, and dinners.
The EnergiZING shakes are supposed to rev up your system. They are full of caffeine and green tea extract, as well as calcium and B vitamins. The chocolate is delicious however it did leave me with an aftertaste that was easily remedied by brushing my teeth. It was easy to make. Although the instructions say to shake it, I blended it in my blender with water and ice. And I looked forward to mid-morning when I could drink my shake. The rest of the day I did feel like I had more energy and was able to get through the day without feeling tired or needing a rest. I found my concentration was improved as well. Because of many health issues, I cannot exercise like most people. My body just cannot do it. So, add that to the menopause years and my metabolism has hit rock bottom. I believe the EnergiZING shakes have definitely jump-started my metabolism.

The Craving Crusher Shakes are made the same as the EnergiZING shakes – with water and some ice, and are filled with fiber, vitamins, protein, and antioxidants. They are meant to keep you feeling full. I blended my chocolate shake with a half of a banana and I have to say, it was the best chocolate-banana shake I have had in a long time. It was delicious.
The rest of the program consists of the pre-measured, pre-made meals. There are bars, pizzas, pastas, and other options from which to choose. While I have my favorites among them, I will admit that every one tasted pretty darn good.
So, the bottom line, which you are probably wondering about now, did I lose 5 pounds? No. I lost 4 pounds in the week, which is still pretty good. And I have turned several people onto this program. I honestly do not have 50 pounds to lose, or even 20, but I do want to eat healthier. I now have a healthier diet and feel better. Sure, there are some times when I feel a little hungry. After all, the portions of the meals are quite small. But on the whole, I can honestly recommend this program. The counselors are available to assist you with your diet and questions via live chat on the computer or on the phone.
Because I periodically interview celebrities, I always want to look my best. I undertook the NutriSystem Fast Five program to start a healthier diet. I also wanted to see if the claims were honest. Four pounds in one week is pretty darn good, and I will be ordering more of those delicious shakes and meals. So, if you are wondering if the new Fast 5 program works, give it a try. You might lose 5 pounds. But even if you lose 4 pounds, like I did, it's still a healthy way to jump-start your weight loss program.
About the Author
Francine Brokaw has been covering all aspects of the entertainment business for 20 years. She also writes about technology and has been a travel writer for the past 12 years. She has been published in national and international newspapers and magazines as well as internet websites. She has written her own book, Beyond the Red Carpet The World of Entertainment Journalists, from Sourced Media Books.
Follow her on Twitter
Like her on Facebook