National Geographic Mega Magic Science Kit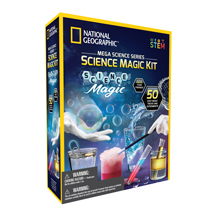 The National Geographic Mega Science Series Science Magic Kit gives your child the chance to be a scientist and magician all at once!
This is a massive science magic kit, and it has everything you need to conduct 20 experiments that also double as magic tricks. Plus, there are enough materials for you to practice your experiments once or twice before you put on an amazing magic show for your family and friends. And yes, magic wand and white gloves are included!
What are some of the incredible things you'll do? How about bending metal with water, making a test tube disappear, changing the color of water, creating a square bubble, and cleaning up an oil spill? And that's not all!
Our full-color experiment guide features illustrated, kid-friendly instructions, along with insight into the science at work in all of the experiments. Your kids will learn so much about chemistry and physics they'll practically be experts!
And the fun doesn't stop there. We also include a bonus experiment guide with 30 easy-to-perform science experiments using common household items. This is a phenomenal gift for kids that love science and magic because it's the best of both worlds!
Available online and at: https://www.amazon.com/dp/B0876F6STP?ref=myi_title_dp&th=1 and https://thinkbluemarble.com/brand/national-geographic/?pag=2&category=12