My Dolphin Show App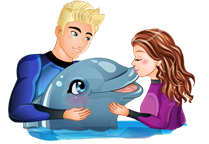 Face it. Everyone loves dolphins. From Flipper to Winter, dolphins have been loved for generations. My Dolphin Show is a fun app for kids to enjoy and have their own dolphin. They get to control the dolphin and learn how to get it to jump through hoops, touch beach balls with its nose, and do other tricks.
There are different locations in which the dolphin play takes place and there are some cute costumes in which to dress the dolphin. By learning more and doing more extensive activities with the dolphin, kids have the chance to "earn" more costumes and ways to customize the game.
Additional content is being added to the app. The next additions will be more costumes and a new water world theme park location.
This app is designed for fun and creativity. There are "in app" purchases to add even more fun for the player, however they aren't necessary to enjoy the excitement of training and playing with a dolphin.
The movies Dolphin Tale and Dolphin Tale 2 have increased awareness, love of, and appreciation of dolphins. Many travel destinations offer the opportunity to swim with dolphins, and yes, I have done so. These amazing animals are intelligent, fun loving, and very sweet.
The My Dolphin Show app is a fun way for kids to interact with their own dolphin and make him jump, swim, and play. And the dolphin in this app can do things their real life counterparts cannot – and should not. This is the best way for kids to play with a dolphin, to be creative, and have fun. And, quite frankly, parents will enjoy spending a little time playing as well.
Check out the official trailer for My Dolphin Show.
My Dolphin Show is now available on the iTunes App Store for only $1.99 and more information can be found at the website (www.mydolphinshow.com). There is more fun and dolphin information in the My Dolphin Show Facebook page
(https://www.facebook.com/MyDolphinShow).
About the Author
Francine Brokaw has been covering all aspects of the entertainment business for 20 years. She also writes about technology and has been a travel writer for the past 12 years. She has been published in national and international newspapers and magazines as well as internet websites. She has written her own book, Beyond the Red Carpet The World of Entertainment Journalists, from Sourced Media Books.
Follow her on Twitter
Like her on Facebook