Moana Toddler Doll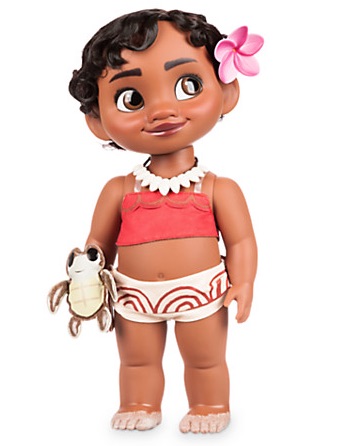 From the time she was a toddler, Moana had a friendship with the ocean. The movie introduces the newest Disney Princess. The Moana Toddler Doll captures the adventurous spirit of this little girl with fun and flair.
Seeing her in the box doesn't do this doll justice. She needs to be taken out and examined to appreciate the detail of this adorable little toddler.
Toddler Moana loves the sea and sand, and this doll represents that with so much detail that exemplifies the little girl viewers will see on the screen. She wears her shell necklace and holds a little turtle. There is a flower clip for he hair, which is soft and wavy. This wide-eyed girl wears a little crop top and her little shorts. Underneath the shorts her underpants are painted on her body.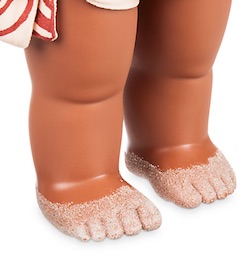 The most adorable features of this doll are her wide eyes, sweet smile, and her feet. What could make her feet so unique? Well, the tops are shiny to reflect the water she just walked in, and her toes and the bottoms of the feet have sand stuck to them. It looks just as though she was playing at the beach and enjoyed every minute of it.
Her warm brown Polynesian complexion combined with her dark hair and her outfit makes her the perfect play pal for kids 3 and up. She is cute and cuddly. And don't worry about the sand coming off. It's definitely stuck on. And her arms and legs are poseable so she can reach out for a hug or sit on a chair.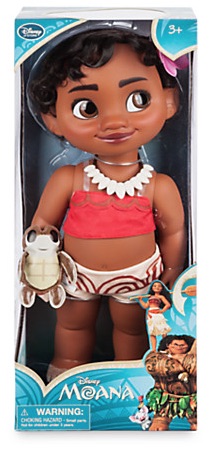 Disney's Moana Toddler is going to be a fun friend to take to the beach or play with in the car, and she makes a good sleeping buddy. As a toddler, Moana steals the hearts of moviegoers and doll lovers. She is not delicate. She is meant to be played with and hugged. And there's no way not to smile when you see her delightful grinning face. She looks as though she wants to say, "Let's go back to the beach!"
Moana Toddler is not part of the Disney Animator Collection, however she does go well with the others if you want to display her along with your Animator dolls. This doll is a bit chubbier than the animator dolls and represents a more carefree style than the other princesses. Perhaps that is because she is a toddler and not a young girl.
Disney's Moana Toddler Doll is going to be on plenty of holiday wish lists this year.
About the Reviewer
Francine Brokaw writes about products, travel, and entertainment. She has been published in national and international newspapers and magazines as well as Internet websites. She has written her own book, Beyond the Red Carpet The World of Entertainment Journalists, from Sourced Media Books.
Follow her on Twitter