Liliputi® Soft Soled Booties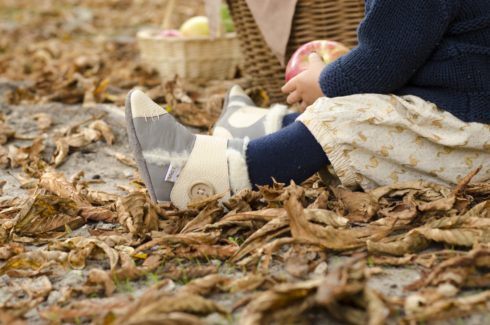 2017/18 model
Recommended by Orthopedic Doctors
Soft, flexible 3 layer sole
Real woolen lining all inside
Safe, soft, leather upper
Velcro closures for easy and safe fastening
The upper side of the booties is natural, soft but resistant, made of high-quality nappa leather. Because of the excellent breathing character of the leather, the child´s feet do not sweat into the booties.
The sole has three layers: Between the non-slip suede soles and the inner leather lining, a layer of 3mm elastic foam provides insulation and reduces the pressure on the joints, while running on hard ground.
The booties are easy to get on, by using the flexible ankle band, which stays fixed. We supplied the toe of the booties, providing enough space for the free movement of toes, and helping a free feet development.
The Liliputi® Soft Soled Booties are not suitable for activities such as crawling, hiking, playing soccer or when using a tricycle. They are ideal for babywearing, and are especially recommended during the cruising phase when learning to walk and also later as a perfect alternate of being barefoot.
A significant part of the experts nowadays, suggest that the child be barefoot as much as possible, as this ensures the cartilage and muscles of the baby´s feet to develop properly.
However is not always possible to be barefoot!
The Liliputi booties are soft-soled, as if the child is barefoot, still protecting him from mechanical damage, and also from the unpleasantness of cold (or hot) surfaces.
In the Liliputi soft-soled leather booties, children learn to walk so that :
Every little part of the sole is activated in the process of walking, which strengthens the foot muscles, thus preventing the most common orthopedic foot problems, like flat feet
They feel the uneven ground with their sole, which greatly contributes to the development of their balance and coordination.
The foot reflex zones are stimulated during walking, which has a positive impact on the entire body.
Lots of feedback we receive from parents, sharing information about how much more confident and stable is the walk of their children in soft-soled shoes, compared to their peers, or experiencing in other types of shoes. Many of them praised the "easy to give" – character of our shoes, and also the fact that their kids don´t want to get them off.
Perhaps the greatest certainty for us, however, is not only the deed, that children do not want to take their shoes off, but – as dozens of reports show – they carry them to their parents, communicating without words, that they would like to get their Liliputi shoes on …
Where to Purchase: https://www.liliputibabycarriers.com/soft-leather-baby-boots