LeKue Rice & Grain Cooker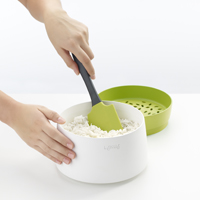 LeKue presents the Rice & Grain Cooker for convenient, mess-free cooking. It makes fluffy rice, evenly cooked grains and delicately steamed vegetables in the microwave oven and eliminates the mess created by spillovers on the stovetops.
The product is intuitively easy to use and the design is fresh and light — ideal for cooks with small kitchens or cooks who use their microwave ovens more often than they do their ovens. One pot, one step. There is no need to boil water. Just measure the water and rice according to the rice package instructions and then microwave it.
The 4.5inch tall, sturdy, well-balanced plastic base doubles as a serving dish. Both the silicone lid and the base are nonstick so they can be washed clean in the sink or the dishwasher.
The platinum silicone bright green lid fits snugly into the base and features dozens of little vents that look like grains of rice. The rice bowl is a made of a white, sturdy plastic. Both the lid and the bowl are BPA free and dishwasher safe.
The Rice & Grain Cooker cooks all kinds of grains including the popular varieties: wheat, bulgur, quinoa and barley and all varieties of rice: short, long, basmati, brown, jasmine and quick cooking.
"A cook simply pours the rice and water into the rice bowl, covers the bowl with the silicone lid and than microwaves the rice. "We recommend that a cook starts the rice on high for the first five minutes of cooking and than reduces the power to 50% for the remainder of the cooking time," said Tara Steffen Marketing Director for Lekue USA.
Since this cooker tucks into a drawer or cabinet, it doesn't take up precious counter space as an electric rice cooker does. The white and green Rice & Grain Cooker makes up to 6 servings.