Lekue Breadstick Molds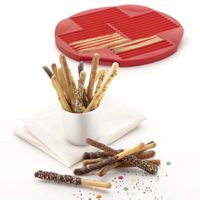 Lekue debuts a breadstick molds that bakes 30 breadsticks in minutes in the microwave oven. The breadstick mold is made in Spain of 100percent pure platinum silicone.
Platinum Silicone is also used for baby bottle nipples and medical tubing. This silicone is more elastic, much smoother, lasts longer and is stronger than China-made silicone. Even more importantly, peroxide is NOT used in the manufacturing process of Platinum Silicone so there is NO odor to the product and BI migration into food. Lékué holds the world wide patent to Platinum Silicone; the raw material is non-toxic, smokeless and odorless. All of the products are 100% compliant with European and FDA regulations for materials that come into contact with food.