J.K. Adams 1761 - Cutting Boards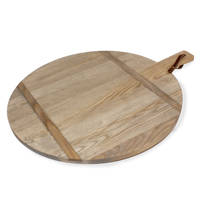 J.K. Adams presents 1761, a new collection of presentation boards made from North American Ash and designed in an early American style. For people who appreciate beautiful wood and who strive to use natural materials in their homes, a 1761 board is a must-have. The boards have been enhanced with a locally made driftwood teak oil finish so they will last for years. If cared for properly, these boards can be handed down to family members. The rule for Ash, or any fine wood, is to wash it gently and hang it or let it stand up to dry. Over time the boards will develop their own patina. The boards can be occasionally treated with a food-grade wood mineral oil.
These handsome boards reflect a style that is truly early American and embrace the simple elegance of that era. The collection includes1761-ONE, which measures 23 3⁄4inches x 19 1⁄4inches and retails for $100; 1761-TWO, which measures 23 3⁄4inches x 10inches and retails for $65; 1761-THREE, which measures 20.5inches x 16inches and retails for $70; 1761-FOUR, which measures 20inches x 16inches and retails for $70; 1761-FIVE, which measures 18.5" x 14.5" and retails for $65.
Designed for food presentation and food preparation, each design provides a lovely backdrop for serving breads, cheese, crackers, fruits, and more. The 1761 Collection is made in Dorset, Vermont. Customers can stop by the factory/store and view the boards being made.