Istikan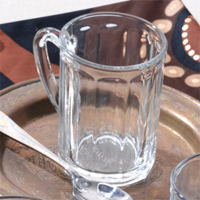 Duralex presents Istikan, a small mug made of modern tempered glass but inspired by the Istikan, a middle-eastern drinking vessel with routes dating back to the 9th -7th century BC.
Istikan is designed for cold or hot beverages. Made in France, Istikan is lovely for sipping tea, coffee and hot coffee liqueur beverages. It's made in two sizes, the 3.5 ounces size retails for $2.50 each, the set of 6 retails for $15. The 4.25 ounces retails for $4, the set of six retails for $32.
Duralex International has been manufacturing drinking glasses in France for more then 80 years and was the inventor of tempered glass in 1939. It is the only glass manufacturing company that manufacturers all of its products in France.