High Society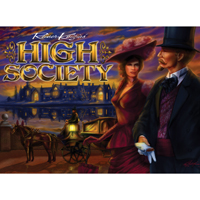 The late-19th Century was booming with growth and boundless opportunity where emerging industries made some Americans rich overnight. Vast sums were spent purchasing vestiges of wealth.
Players (3 to 5, ages 10+) are among these influential and wealthy citizens with fortunes to spend on possessions and shows of status while attempting to avoid disaster. Emerge victorious by amassing the greatest collection of possessions while still retaining more of your cash than at least one of your "High Society" rivals!
This quick, multi-faceted game creates a nail-biting auction experience!