HexBug-Crab in Aqua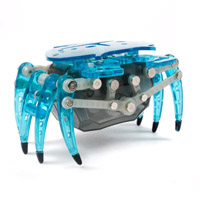 Our HEXBUGS are innovative combinations of technology and design. They depict various insects and come in a rainbow of colors. They are activated by touch and change direction automatically when they hit an obstacle.
This HEXBUG depicts a crab, balancing on eight tiny but strong legs. It is a vivid jewel color and fits in the palm of your hand.
Batteries are included.