Go Fish for Impressionist Artists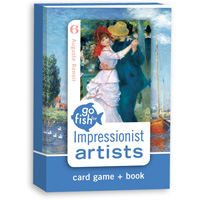 Discover the most popular art of all time! As children play Go Fish and other stimulating memory and matching games, they visually learn about 8 great Impressionist artists. The companion fact book is filled with stories about the artists and the exciting times in which they lived.
Play "Go Fish" and other memory games with the art cards, then read about the artists in the full color companion book.