Fun Gripper ® Thumb Ball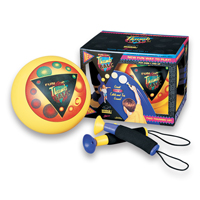 A New Fun Way to Play! Put a unique spin on the traditional games of catch. Two player flip a 9″ Vinyl Ball back and forth using Thumb-activated suction cup handles – Thumb on to catch, Thumb off to toss. Kids & Parents Love it!
Fun Gripper® Thumb Ball Toss and Catch Game. Indoor or outdoor fun. Great for hours of family fun on those Summer going into Fall or Rainy days in doors or outdoors or at the beach. Test your skills and develop hand-eye coordination.