Fisher-Price S'getti Scatter Game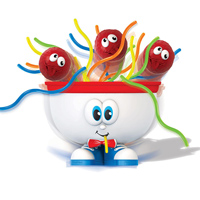 A love of learning starts with play! Your meatballs are on a roll with the Fisher-Price S'getti Scatter. Remove the s'getti strands without letting the meatballs fall. Be the first  to spill the meatballs and you lose.
The updated Fisher-Price classic comes with two game levels to enhance game play. Each level grows with your child challenging them as they get older and encourage thinking, problem solving, sharing and cooperation. The game includes a wobbling dish and base, 16 strands of s'getti, three meatballs and a parent guide with extended play and learning ideas.