Fisher-Price Little People Photo Discovery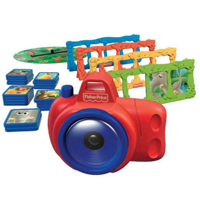 A love of learning starts with play! The Fisher-PriceTM Little PeopleTM Photo Discovery is an educational matching game for the little photographers in your family. Kids can go on an adventure with their favorite Little PeopleTM friends and discover a world of cute animals.
Little PeopleTM Photo Discovery Game encourages thinking, problem solving, sharing and cooperation. The game includes a Discovery Camera, 20 photo slides, four frames and a spinner.