Dyson Allergy Kit – Product Review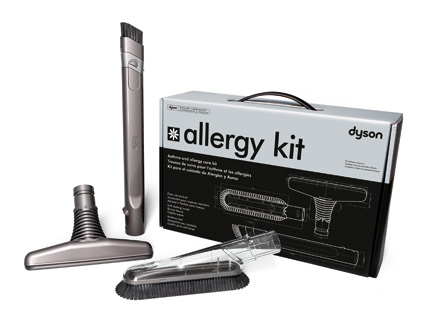 If you have an asthma and/or allergy sufferer in your house, take note. The Dyson Allergy Kit is a great addition to your Dyson upright or canister vacuum. With three little tools it addresses some problems that can be helped by this one kit.
I have said to my friends and family that "I can smell dust." When I walk into a room, I can smell dust if it's there. I am extremely sensitive to this and like other allergy sufferers it is difficult for me to dust the house because of this sensitivity. The Dyson Allergy Kit greatly improves the ability of allergy sufferers to clean their homes, and once they're clean, allergies are greatly improved.
First, the Soft Dusting Brush is a good way to gently clean surfaces. Blinds and shutters are especially notorious for collecting dust and we often don't think about cleaning them as much as we should. And, this little tool helps clean keyboards (how often do you dust your keyboard?) as well as other surfaces. It has soft bristles so it won't scratch surfaces.
The Flexi Crevice Tool includes an extender so it can reach behind couches, tables, desks, and other furniture where dust collects and because it is hidden, we often forget about dusting these spaces. Floorboards and floors, whether they are hard or carpet, collect dust even when they are out of sight.
And the tool I especially find interesting is the Mattress Tool. Have you ever thought about dusting your mattress? Probably not. This tool removes dust and allergens – including those pesky mites – on your mattress, as well as upholstered furniture. Sure, we vacuum our furniture from time to time, but mattresses are usually forgotten. And since we spend a large portion of our lives in bed, it's a good idea for allergy sufferers to pay attention to bedding and beds. The Mattress Tool also gets loose fibers and pet hair.
If you already have a Dyson upright or canister vacuum, consider this Allergy Kit to add additional relief for the asthma and allergy sufferer in your home.
About the Author
Francine Brokaw has been covering all aspects of the entertainment business for 20 years. She also writes about technology and has been a travel writer for the past 12 years. She has been published in national and international newspapers and magazines as well as internet websites. She has written her own book, Beyond the Red Carpet The World of Entertainment Journalists, from Sourced Media Books.
Follow her on Twitter
Like her on Facebook