Do Art Blow Pen Stencil Art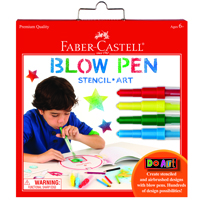 Get "blown" away creating stencil art with blow pens and colored pencils!
Children can experiment with fun blow pens to create brightly colored artwork in their sketchbook using the stencil spinner, chipboard shapes and colored pencils. Blow pens are BPA-free and safe for children. Practice mixing colors, creating "negatives" with the chipboard shapes, or using the stencil spinner – choose from a variety of shapes and letters. When the fun is over, everything stores neatly inside the package.