Disney Junior Super Stretchy Game
The twisty, turny, see what you can do, game!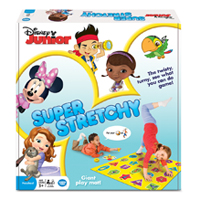 Get up and move with beloved characters from Disney Junior, including
Doc McStuffins, Jake and the Never Land Pirates, Sofia the First, and Mickey
Mouse Clubhouse! One player flips over cards and calls out characters, colors,
and shapes on the giant floor mat—and the parts of your body you need
to touch them with! You stretch out and get creative—physically—can you
reach them all?