Disney Animators' Collection Interactive Sven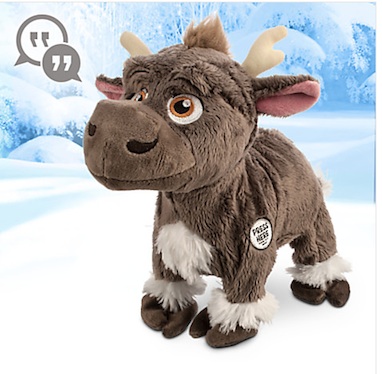 The new interactive Sven will amaze everyone. This nine inch high fellow is cute to look at and sweet to hold. But he is much more than a simple little plush, although those are nice too. This Sven is interactive. Yep, he responds to commands.
There is a tiny button on his left shoulder. When that is pressed Sven grunts his sweet little grunt. Now he is ready to play and interact. Say, "Would you like some carrots?" and he stands on two legs and you can hear him chomping his favorite food – carrots.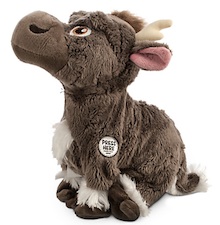 Tell him, "Sven, sit" and he sits on his rear end. Tell him, "Sven, lay down" and he stretches out on the ground. Ask him to "come over here" and he moves forward. Ask him if he wants to play and he gets very excited, jumps on his hind legs, wiggles his front legs, and basically plays with you.
After a little while you will hear him sniff. This basically turns him off and if he is lying down or sitting at the time, he will return to standing on his four legs where he awaits another push of his button to start again. This way, if he is left "on" he automatically turns himself off so he can't get into any trouble. He can always be turned off manually by pushing the button. One push he grunts and is "on" and another push he sniffs and is "off."
Whether he is being used in his interactive mode or just sitting on a table or bed or being held by a loving child, this little guy is adorable. He is from the Disney Animators' Collection and represents Sven when he was young. In the beginning of the film Frozen, Sven and Kristoff (and Anna and Elsa) were young and just starting out. This is the young Sven. But young or old-er Sven never fails to deliver an endearing expression.
This Interactive Sven makes a great gift for any youngster. He is so darn cute to look at, plus he is interactive.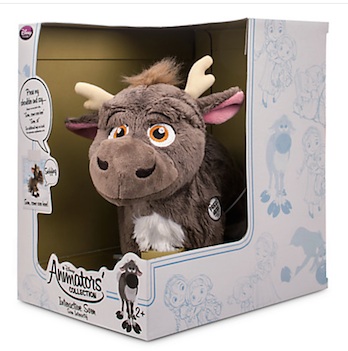 About the Author
Francine Brokaw has been covering all aspects of the entertainment industry for 20 years. She also writes about products to bring the latest and greatest to her readers. She has been published in national and international newspapers and magazines as well as Internet websites. She has written her own book, Beyond the Red Carpet The World of Entertainment Journalists, from Sourced Media Books.
Follow her on Twitter