Disney Animators' Collection Alice Doll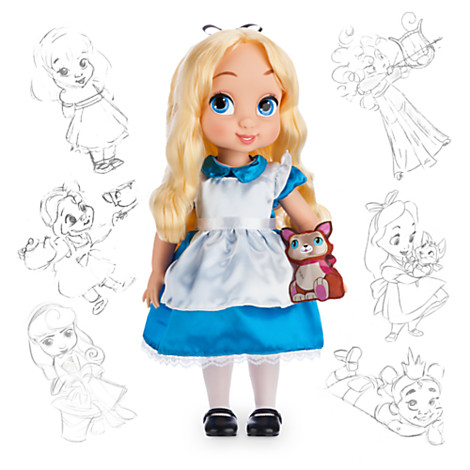 The newest addition to the popular Disney Animators' Collection is Alice from Alice in Wonderland. Like the others in the series, Alice stands 16 inches tall and was designed by a Disney animator.
Alice definitely looks sweet and innocent. She is smiling and her big blue eyes show her wonder at the big wide world. Her blonde hair is tied with a black ribbon on the top of her head. She wears a bright blue dress with a white apron. Alice carries a miniature soft stuffed version of her beloved cat Dinah.


Dale Baer is the Disney animator who helped create this newest doll in the series. He has worked on several popular characters from a variety of animated films including The Rescuers, The Great Mouse Detective, The Lion King, The Emperor's New Groove, Meet the Robinsons, The Princess and the Frog, and Winnie the Pooh. Each of these films has given us beloved characters, and Baer lends his talents to this new doll.
The first thing everyone will notice about Alice is her angelic face. Little girls will take her to their hearts, and older girls, ahem women, will be delighted by all the sweetness she has to offer. Her box is adorned with sketches from the story, making it a nice way to display little Alice, but if you do want to take her out, the Kaiser doll stand #2601 is the perfect way to display Alice on a shelf. Of course, she can always just be hugged and played with.
The newest film, Alice Through the Looking Glass, hits theaters May 27, 2016, but Alice is probably best known for her first Disney film, Alice in Wonderland, which came out in 1951 and is a classic animated feature. This wasn't the first film, however, to feature the delightful little girl. There were other movies before the Disney version. And the 2010 Tim Burton film showed a more mature Alice returning to Wonderland. The newest Burton story has Alice returning yet again to the place where her wildest adventures occurred.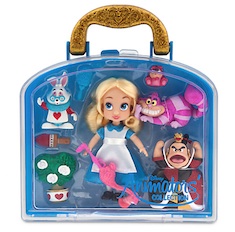 Little girls might enjoy dressing like Alice. The Disney Store has a matching dress for girls. They also have a miniature version of the doll that comes in a playset with other characters from the story. If your child loves Alice, reading the Alice in Wonderland book by Lewis Carroll is a great way to share time together. There are plenty of books about Alice that kids will enjoy hearing at bedtime with this Alice doll tucked into the covers next to them in bed.
The animator doll has all the whimsy and excitement of the character. Little Alice is a sweet doll with a big smile and a slightly turned up nose in her profile. It's difficult to look at her and not smile. She exudes love and kindness. Undoubtedly she will be a beloved friend for many little girls. This doll is for ages 3+.
About the Reviewer
Francine Brokaw writes about products, travel, and entertainment. She has been published in national and international newspapers and magazines as well as Internet websites. She has written her own book, Beyond the Red Carpet The World of Entertainment Journalists, from Sourced Media Books.
Follow her on Twitter