Creativity for Kids: X-treme Sticker Maker Set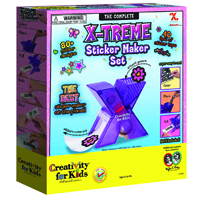 Creativity for Kids X-treme Sticker Maker Set is the BEST sticker maker on the planet! A favorite among crafters; this high quality machine is versatile and super easy to use. The kit includes 40' of sticker tape, 80+ color-in sticker designs – including velvet, metallic and glitter. Markers and sticker book also included. You can even turn your artwork and photos into stickers.
Available nationwide.