Crayola Washable Sidewalk Chalk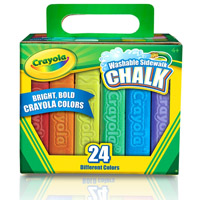 A standout from the crowd – it's the first sidewalk chalk featuring 48 classic Crayola crayon colors. And that's not all – the chalk is also bolder ad more vibrant than ever. With so many colors to choose from, kids can let their imagination run wild to creat beautiful masterpieces that may include "carnation pink" flowers, "sepia" colored tree trunks, "granny smith apple" turtles or "scarlet" colored lady bugs. A new anti-roll shape prevents chalk from rolling away and the wide sides allow kids to draw thick lines.
Moms will appreciate that the chalk is washable from sidewalks and driveways – simply spray away with water!
Available in 12-ct, 16-ct, 24-ct, and 48-ct varieties.