Crayola Marker Maker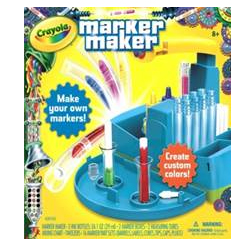 In just a few easy steps, kids can take creative control and make their very own markers in unique colors! To begin, kids choose a color from the color mixing chart or they can create their own color. Next, kids simply mix marker ink colors together and then dip the marker reservoir into the measuring tube to draw in custom ink. To complete the process, kids use the Marker Maker unit to assemble the marker with a simple click. When the fun is done, the Marker Maker closes up into a small portable unit that also doubles as storage for all the marker making components.
Includes: 16 component parts to make 16 markers, (3) 1 oz. bottles with marker inks, 1 color mixing chart, 16 marker labels and 2 marker storage boxes that kids can color and decorate.
Available at retailers nationwide.