Celeste Sings, Kids Dance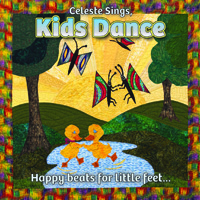 Happy Beats For Little Feet!
Introducing the second album in the Celeste Sings series. The first release, Celeste Sings, Kids Dream was honored with the prestigious NAPPA Gold Award, Family Choice Award, National Parenting Center's Seal of Approval, and Creative Child Magazine's Seal of Excellence. Plus with our innovative "One to Keep and One to Share™" program, we give you a free CD for every one you purchase. So you can share this music with those you love!