Be A Ninja Assortment Mask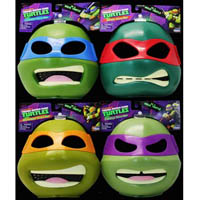 Kids can immediately transform themeselves into their favorite Teenage Mutant Ninja Turtle with the Ninja Turtle Deluxe Mask Assortment! This deluxe assortment includes masks for Leonardo, Raphael, Donatello and Michelangelo just as they appear in the hit TV show.
The one size fits all masks include the Turtles signature colored bandana, an elastic strap and a soft rubber inner mask for comfort and fit.