Baroni Jewelry - Calistoga Collection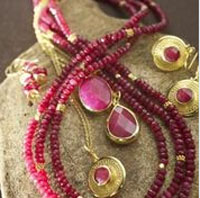 Rolling hills, natural hot springs and a rustic luxury are the signatures of Calistoga, CA, the inspiration for our fall collection. Nestled on the northern edge of the Napa Valley, this charming town inspired our richly colored Calistoga collection. The vivid reds of our ruby jade are reminiscent of the plump grapes cultivated in the surrounding vineyards. The green of the olive jade reflects the verdant fields and the grey onyx ties to the soil and mountains of the region.
Each piece in this collection is named after wine regions in Napa valley and the beautiful natural spaces you find as you meander through wine country. Just like this northern California region, our Calistoga collection highlights the rustic and natural stones with refined ornamentation cast from sterling silver or plated with 24k gold. Layer and mix the styles to create your own opulent expression that makes you feel as refreshed as a weekend retreat.