Aurora Borealis Rainbow Vision Sand Pictures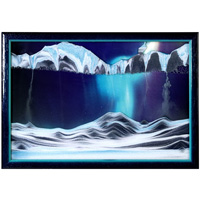 Klaus Bosch's Rainbow Vision Sand Pictures are interactive, ever-changing, mesmerizing and versatile art pieces.  Put our movies (13 x 8.4") on the wall and enjoy the added dimension of the image to enhance the performance of the sand.
The Aurora Borealis is a fantasy.  The falling sands seem to set the Northern Lights alive as they fall to make mountains, valleys and dunes.  Prominent sands are turquoise, blue, black and white.  Our Sand Pictures are educational for children while soothing and relaxing for adults.  Handmade in Lustenau, Austria.  Tabletop hardware is also included with the art piece.
The Movie series in small is $69.95 with 9 colors / images available.