Kinderlift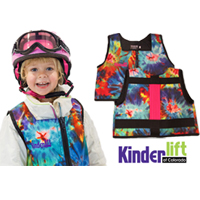 Kinderlift is the safety aid for kids learning to ski or snowboard. The strap on the back of the vest will help:
– Lift fallen children off the snow and steady them so they can put their skis back on.
– Lift children onto the chairlift, hold them while riding the lift, and support them while getting off the chair.
– Instructors, guests, and parents have also prevented serious accidents by using the Kinderlift safety vest.