'Zootopia' on Combo Pack
Category:
Blu-ray's and DVD's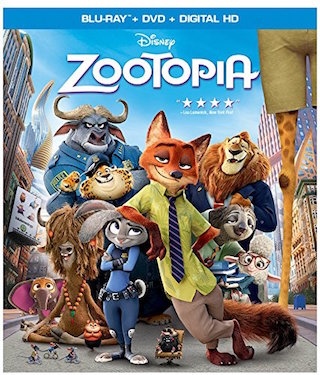 "Anyone can be anything." That's what little Judy Hopps (Ginnifer Goodwin) thinks about the city of Zootopia. This optimistic and plucky little rabbit wants to make the world a better place, and she gets her chance in the hit animated movie Zootopia.
Judy followed her dream and became the first bunny cop on the ZPD (Zootopia Police Department). Her eagerness for the job is not dampened when she is assigned parking duty. Oh no. When she is tasked with writing 100 parking tickets, she sets her sights on writing 200. But she suddenly finds herself in the middle of a giant missing mammal case.
Judy and her new acquaintance Nick Wilde (Jason Bateman), a sly but sweet fox, are on the trail of a missing otter. There have been 14 cases of missing mammals. Together, this unlikely pair manages to get to the bottom of a sophisticated plot and uncover the mastermind. Along the way they form a friendship that gets them through some tough times, and even sets the stage for a sequel if the powers that be at Disney decide to continue their story. They are both fun characters, and Judy is a great role model for boys and girls. She is steadfast in following her dreams. After all, if she doesn't try, she won't know if she can succeed. That's a great lesson for everyone.
The bonus features include a look at how the filmmakers researched animal behavior by first visiting Disney Animal Kingdom in Florida, then traveling to Africa where they figured out which animals were going to be what kind of characters in the film. Their big ah-ha moment was at a watering hole, which was a peaceful place where animals came together, and that became the foundation for the city of Zootopia.
The filmmakers pitched three stories to Executive Producer John Lasseter, all featuring animals in clothing, which appealed to Lasseter. Looks at the characters, environments, and animation as well as the score are featured in bonuses. Lasseter said he wanted a "world music vibe" with a "hip vibe" when it came to the score.
Keep your eyes open during the movie for signs of Big Hero 6, hidden Mickeys, Frozen, Tangled, Moana, and even Oswald. Those clever folks at Disney always manage to include hints of their past and future films and characters. A music video with Shakira, deleted scenes, and a look at some characters that didn't make it into the film round out the bonuses.
Zootopia is rated PG for some thematic elements, rude humor and action.
Check out this cute Z.P.D Forensic Files Easter Egg clip.
About the Author
Francine Brokaw has been covering all aspects of the entertainment industry for 20 years. She also writes about products and travel. She has been published in national and international newspapers and magazines as well as Internet websites. She has written her own book, Beyond the Red Carpet The World of Entertainment Journalists, from Sourced Media Books.
Follow her on Twitter