'You'll Never Get Rich' on Blu-ray
Category:
Blu-ray's and DVD's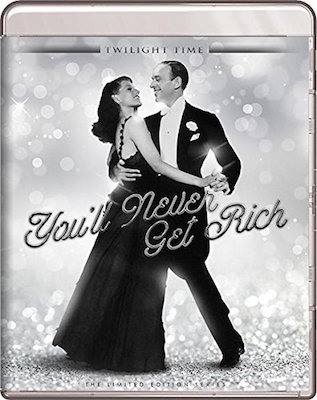 Fred Astaire and Rita Hayworth star in this 1941 black and white musical with songs by Cole Porter. You'll Never Get Rich was nominated for two Academy Awards, both for its music. While there are no memorable songs in the film that have lasted through the years, the story is adorable and the dancing is top notch. After all, what else would you expect from an Astaire film?
Astaire plays Robert Curtis, the choreographer for a big NYC theater. Rita Hayworth is Sheila Winthrop, one of the new dancers in the group. Robert Benchley is Martin Cortland, the owner of the theater and a philanderer who buys diamond bracelets for women he wants to seduce while splurging on a back scratcher for his wife (Frieda Inescort) for their anniversary.
When Mrs. Cortland discovers her husband's latest indiscretion, everything gets mixed up. Sheila is interested in Robert but Martin bought the bracelet for Sheila. Then his wife sees the inscription and, well, that's where this comedy begins. Martin gets Robert to cozy up to Sheila so he can convince his wife that the bracelet is Robert's. Robert goes along with the scheme but finds himself falling for Sheila. She is excited because she has been interested in him from the start. When Sheila realizes it is all a scam, Robert is rejected.
After a whacky encounter at Sheila's apartment, Robert figures the best thing for him to do is to join the army. Now, if you thought the wackiness in the city was the end of all the scheming and plotting, think again. There is plenty more tomfoolery in the army. Robert's new army friends help him woo Sheila when she is on the base visiting her old friends, one of which is Robert's captain and hopeful fiancé of Sheila.
This all sounds confusing and complicated, but trust me, it's not. Once you start watching all the characters fall into place, some of them literally. And there are plenty of wonderful dance sequences with Astaire and Astaire and Hayworth. Plus, the comedy will have viewers laughing out loud.
Astaire and Hayworth continued to dance together the following year in the 1942 movie You Were Never Lovlier.
You'll Never Get Rich is a new Blu-ray release from Twilight Time. It's enjoyable and a fun film with a cast of great characters. It is a witty, clever comedy that will leave you happy.
About the Author
Francine Brokaw has been covering all aspects of the entertainment industry for over 20 years. She also writes about products and travel. She has been published in national and international newspapers and magazines as well as Internet websites. She has written her own book, Beyond the Red Carpet The World of Entertainment Journalists, from Sourced Media Books.
Follow her on Twitter